friday, AUGUST 26, 7:00 p.m.
SATURDAY, AUGUST 27, 7:00 P.M.
SUNDAY, AUGUST 28, 2:00 P.M.
MONDAY, AUGUST 29, 7:00 P.M.
TUESDAY, AUGUST 30, 7:00 P.M.
wed., AUGUST 31, 7:00 P.M.
THURS., SEPT. 1, 4:00 P.M. & 7:00 P.m.
MARCEL: THE SHELL WITH SHOES ON (PG)




"[Marcel] will make your spirit soar and remind you to enjoy those you love, inhale a bit of fresh air, and respect the earth every second as though it were your very first time. It's a reminder To embrace all the stages of grief and see our dark chapters as changes that somehow make us better on the other side."

- Carla Renata, RogerEbert.com
Marcel is an adorable one-inch-tall shell who ekes out a colorful existence with his grandmother Connie and their pet lint, Alan. Once part of a sprawling community of shells, they now live alone as the sole survivors of a mysterious tragedy. But when a documentary filmmaker discovers them amongst the clutter of his Airbnb, the short film he posts online brings Marcel millions of passionate fans, as well as unprecedented dangers and a new hope at finding his long-lost family.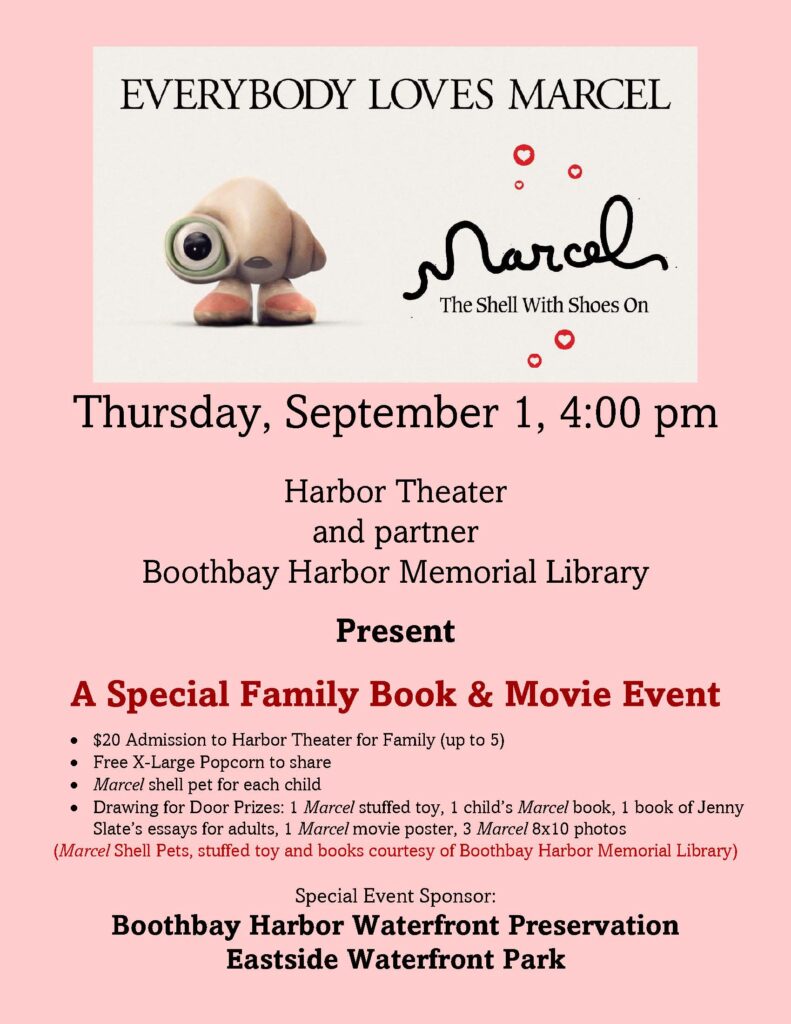 Special Family Book & Movie Event for Marcel the Shell With Shoes On
GET TICKETS HERE

"Adorable", "Delightful", "Quirky", and "Winsome". Who could bear to miss getting
acquainted with Marcel? The Harbor Theater and Boothbay Harbor Memorial Library
are partnering to bring Marcel home to area families in a very special event, sponsored
by the Boothbay Harbor Waterfront Preservation/Eastside Waterfront Park.
On Thursday, September 1, at 4 pm, the film Marcel the Shell with Shoes On will run at
a special time with discount tickets for families. The $20 Family Ticket includes
admission for a family of up to 5, free X-LG popcorn to share, a shell pet for each child,
and a drawing for some terrific Door Prizes.
The shell pets were created by BHML's Children's Coordinator, Jen Betts. They are
available for adoption at the library and their "Shell-ter" will be at the Marcel the Shell
movie event for on-site adoptions. Raffle prizes will include a Marcel stuffed animal and
the hit children's book "Marcel the Shell with Shoes On: Things About Me." The raffle
will also include a copy of "Little Weirds"; a book of essays for adults written by actress
and comedian Jenny Slate, the voice of Marcel the Shell. The Marcel stuffed toy and
books are all courtesy of BHML. Harbor Theater is throwing in a Marcel movie poster
and three Marcel 8×10 photos for the drawing.
If you haven't yet read the children's book or heard about the film, it is interesting to
know a little of their background. Both the book and feature film are expanded versions
of a popular Internet three-and-a-half minute Stop Motion video made by Jenny Slate,
an actress, and Fleischer-Camp, a director, that went viral in 2010. The children's
picture book "Marcel the Shell With Shoes On: Things About Me" (2011) features
luminous oil painting illustrations by Amy Lind. Jenny Slate's adult book "Little Weirds"
(2019) is a collection of essays that "tend toward the short, casual, and mildly silly, and
her language strikes a balance between oddly flat statements and endearingly specific
word choices enlivened by the occasional Seussian rhyme . . ." (NPR, Lily Meyer).
Family Tickets are available at the door, starting at 3 pm on Thursday, September 1. To
purchase tickets in advance online, click here. 

ADA-mandated Audio Descriptive (AD) and Closed Caption (CC) devices available for the visually and hearing-impaired. Inquire at the concession stand.